Choosing the type of course that suits you
2022年6月20日更新
Ochanomizu University offers a variety of programs available for international students. Choose the type of course based on your goals and enjoy studying together with us at Ochanomizu University.
Tips on how to search, find and choose your ideal course of study
Clarifying your purpose for studying abroad helps you understand the type of university course of study that fits you.
Note: The University does not have an inter-university transfer program for international students. You may take the general transfer admission test. For more information, please contact the Admissions Division.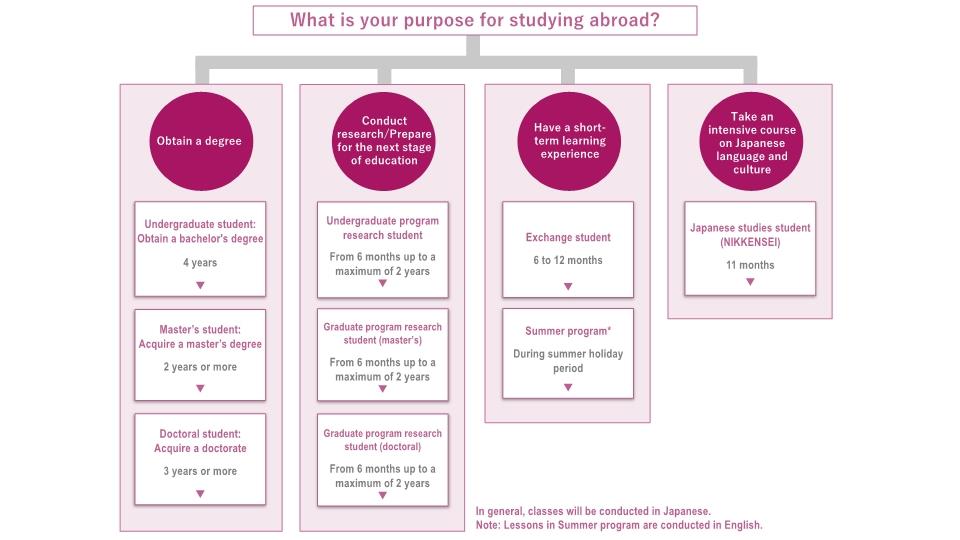 Conduct research/Prepare for the next stage of education
Have a short-term learning experience
Take an intensive course on Japanese language and culture
関連ファイル / Related Files
»

Guide for Prospective Students_web(PDF形式 1,876キロバイト)
PDFファイルの閲覧には、Adobe Acrobat Reader DC(新しいウインドウが開き、お茶の水女子大学のサイトを離れます)が必要です。