About Ochanomizu
03.04.2017 Update
Greetings from the President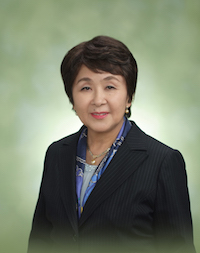 Ochanomizu University was founded on November 29, 1875 as Tokyo Women's Normal School, Japan's first institution of higher education for women. In the over 141 years since, the university has forged a new path in education for women. Even when it was difficult for women to play a major role in the workforce, many graduates of this university were pursuing careers and becoming strong performers in a variety of fields, including academic research, education, industry, government and the media. They continue to earn the deep respect of their peers, and have opened up doors to new opportunities for the women who follow.
We continue to foster women who embrace the future by adopting a broad perspective and strong sensitivity, based on the legacy and traditions we have cultivated.
When all of Japan's national universities were turned into national university corporations independent of the government, Ochanomizu University adopted the motto "being a place where all women motivated to learn can realize their most ambitious dreams." To support all women in pursuing their dreams—including women in developing countries who have the desire but not the opportunity to pursue an education—we have provided continuous educational support and research exchange programs for women and infants and toddlers in Asia and Africa, including an educational support program for women in Afghanistan. As of April 1 this year, Ochanomizu University had concluded exchange agreements with 71 universities in 25 countries, creating an environment that promotes study and research across borders. Our aim is to have young women develop a deep mutual understanding with peers from diverse cultures who have different values and perspectives, and benefit from one another while pursuing their own growth.
At a time of significant social upheaval and intense challenges, we have built a distinctive educational system and a productive place of continuous learning that combines liberal arts education, global education and leadership education to enable young women to find their own paths and contribute to the happiness of other people.
Over the course of its 141 years of history, Ochanomizu University has offered a broad and diverse academic and research environment, covering the workings and structures of nature and living organisms, the ways that humans live in society and the institutions that support them, the development of science and technologies that support human lifestyles, and the construction of systems and theories. We train our talented graduates through this education and research, and they gain broad knowledge, a deep sense of inquisitiveness, a rich imagination and the sense of commitment as a member of society needed to lead Japan and the world into the future.
In FY2016, the university began working on its third-period midterm plans and goals. We have taken this opportunity to add another goal to our existing mission of "cultivating global female leaders." Based on this new goal—"promoting research and education that enable people to remain physically and mentally happy and healthy throughout their lives"—we have established the Human Life Innovation Development Research Organization. This is one of two outstanding research organizations at our university—the other being the Research Organization for the Promotion of Global Women's Leadership that was launched in 2015—and integrates liberal arts and science. It includes the Institute for Human Life Innovation and the Institute for Education and Human Development, and promotes research aimed at solving various problems in our aging society with fewer children being born.
Ochanomizu University sincerely hopes that all its students achieve their unique dreams and create prosperous futures for themselves. We also hope they pursue activities that inspire optimism and courage in the people of their community. As an institution of higher education backed by a 141-year legacy of achievement, Ochanomizu University is sure to continue playing a pivotal role in society.

April 2017
Kimiko Murofushi
President
Ochanomizu University

Mission
"Ochanomizu University will support all women, regardless of age or nationality, in protecting their individual dignity and rights, freely developing their unique qualities and capabilities, and pursuing persolearning so as to satisfy their intellectual appetites."
As a pioneer of women's education in Japan, Ochanomizu University offers programs that will develop women capable of being opinion leaders in politics, economics, academia, culture, and other fields on the international stage.
These programs that of the "21st century Ochanomizu University model" focus on three areas:
1. Development of higher education for women into the future
2. Centralization of research and 21st century liberal arts education
3. Social contribution and international exchange
Cutting-edge research and development based on new ways of thinking is a unique feature of research at Ochanomizu University.
Educational Characteristics
Highly specialized education to develop women leaders
Ochanomizu University's undergraduate courses offer highly specialized education in small class sizes. We have in place a free learning environment that protects the individual dignity and rights of women so as to develop women capable of contributing to the realization of a gender-equal society and to the empowerment of women around the world.
Advanced graduate research closely linked to undergraduate courses
Graduate research promotes a variety of projects, the outcomes of which are deeply reflected in undergraduate courses. We pursue evolutions in the university's curricula through their link to cutting-edge research in the graduate school.
Promotion of 21st century liberal arts education integrating the humanities and sciences
The globalization of society in the 21st century is giving rise to concurrent trends in knowledge and technology: specialization and diversification. That is, the knowledge that students acquire must be specialized or it will be useless, and at the same time it must be communicable to people with different national and cultural backgrounds.
In the past, the university offered liberal arts as a preliminary step to specialized education. Whereas at present, we are required to foster in students communication and negotiation skills, a cross-disciplinary viewpoint, and the ability to make judgments in response to change so as to support and enable full utilization of highly specialized education.
Ochanomizu University's 21st century liberal arts education aims to build on the foundation of knowledge itself, or the general (liberal) skills (arts) that students can use throughout their lifetime.
Launch of a multiple program elective course system in 2011
The new system enables students to freely combine "core programs," "specialty programs," "subprograms," and "interdisciplinary programs" so as to acquire, in addition to the in-depth knowledge required of them in the past, the knowledge and skills suited to their needs.
History
1875
Tokyo Women's Normal School, Japan's first institute of higher education for women and the predecessor of Ochanomizu University, opens in Ochanomizu, Tokyo (now Yushima, Bunkyo-ku)
1879
The school produces its first graduating class of 15 students
1923
School buildings are destroyed by fire during the Great Kanto Earthquake
1932
The school moves into new buildings at the present location (Otsuka, Bunkyo-ku)
1949
Ochanomizu University is established as a women's university with a Faculty of Letters, a Faculty of Science and Home Economics
1963
Graduate School of Home Economics (master's program) is established
1976
Graduate School of Humanities and Science (doctoral program) is established
1992
Faculty of Home Economics is reorganized into the Faculty of Human Life and Environmental Sciences.
1997
Master's research courses in humanities, science, and home economics are reorganized into the Graduate School of Humanities and Science (master's program with 6 divisions).
2004
According to the National University Corporation Law, Ochanomizu University becomes a national university corporation.
2007
Strengthening Education and Research through Reorganization of the Graduate School.
For more information, click on Ochanomizu University Digital Archives.
Disclosure of Educational Information
Institutional Data
Number of Students
Undergraduate Students

| Undergraduate | Freshmen | Sophomores | Juniors | Seniors | Total |
| --- | --- | --- | --- | --- | --- |
| Faculty of Letters and Education | 214 | 216 | 235 | 275 | 940 |
| Faculty of Science | 140 | 131 | 140 | 152 | 563 |
| Faculty of Human Life and Environmental Sciences | 135 | 131 | 141 | 165 | 572 |
| Total | 489 | 478 | 516 | 592 | 2075 |

(Numbers include foreign students. As of May 2017)
Graduate Students

| Graduate | 1st Year | 2nd Year | 3rd Year | Total |
| --- | --- | --- | --- | --- |
| Master's Program | 253 | 255 | - | 508 |
| Doctoral Program | 59 | 74 | 249 | 382 |
| Total | 312 | 329 | 249 | 890 |

(Numbers include foreign students. As of May 2017)
Grand Total

| Grand Total | Number of Students |
| --- | --- |
| Grand Total | 2965 |

(Numbers include foreign students. As of May 2017)
Number of Staff
Administrative Staff

| Administration Office | Number of Staff |
| --- | --- |
| Administration Office | 105 |
Faculty Staff

| Faculty Staff | Number of Staff |
| --- | --- |
| Undergraduate Courses | 2 |
| Faculty of Core Research | 177 |
| Others | 92 |

Educational Staff (Attached Schools)
Number of Staff
Kindergarten
10
Elementary School
33
Junior High School
25
Senior High School
24
Izumi Daycare Center
4
Center for Early Childhood
Education and Care
16

(The Graduate School faculty are also responsible for teaching classes in the Undergraduate Faculties. As of May 2017)