Students from"Sakura Science Program" experienced graduate course in Advanced Sciences
12.09.2017 Update
"Sakura Science Program" is one of program offered by Japan Science and Technology Agency (JST) for enhancing exchanges between Asia and Japan of the youths who will play a crucial role in the future field of science and technology by facilitating short-term visits to Japan. This was the first time that Ochanomizu University offered the Asian students "Science and Technology Experience Course (course A)" through ten days from August 21.
Ten students from institutions of Science and Technology in Thailand and Vietnam visited to the laboratories in the Advanced Sciences and Life Sciences graduate courses. They studied in the lectures on Bio-informatics, Molecular computing, and experiment for DNA Origami. Also they participated in discussion with graduate students of the programs for Leading Graduate Schools where they could experience the PBTS research activities.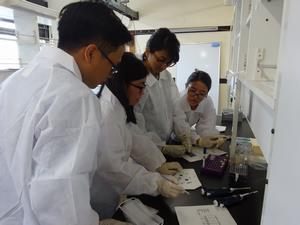 Experimental study on DNA Origami
Students went many places related to science and technology out side of campus, "Miraikan" -- Science Museum, Japanese leading company, and other institute of technology. On weekend, they visited Japanese old temples in Kamakura city to learn more about Japanese traditional cultures in which they found similarities or differences between Japan and their countries.
We hope all of these activities would make them be more enhanced in their future study and strongly expect them come to Japan again as a researcher.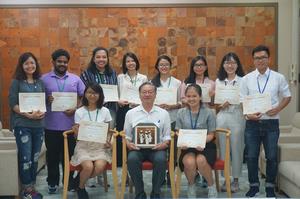 Picture at the closing ceremony