Taking a Part-time Job
2017年7月5日更新
Taking a Part-time Job
International students in Japan on a "Student" visa for the purpose of study, as a rule, cannot take part in any activity that involves receiving pay such as a part time job. However, a large number of international students do engage in part time jobs in their free time to help cover their school fees and living expenses. Currently, about 80% of international students have a part-time job (JASSO survey). If you wish to take on a part-time job, you must receive Permission to Engage in Activity Other Than That Permitted under the Status of Residence Previously Granted at the Immigration Bureau, and ensure that your part time job does not interfere with the original purpose of your stay under a "Student" visa — your studies. Note that the work hour limit is 28 hours a week. Furthermore, during extended holidays the limit is eight hours per day, however, work is still limited to 28 hours a week.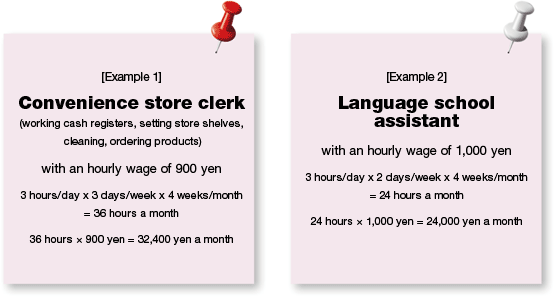 A word of advice
There is no guarantee that you will find a job you are interested in, or that you will be hired after turning in an application. Consider the costs associated with studying abroad carefully and plan your finances so that you do not rely too heavily on a part time job.
Refrain from working during the first three months of your arrival. Get settled into life in Japan and at the university, and discuss your plans and receive permission from your academic advisor before starting a part time job.