Opening remarks from
President Sawako Hanyu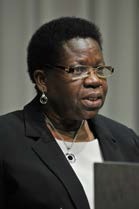 Speech introducing female
ambassadors to Japan
H. E. Mrs. Salome Thaddaus Sijaona,
Ambassador of Tanzania to Japan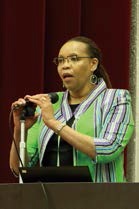 Speech by H.E. Ms. Mohau Pheko,
Ambassador of South Africa to Japan
On Tuesday, October 28, 2014, the A-WiL International Symposium* entitled "Women's Leadership in Different Cultural Contexts: Learning from Women Ambassadors to Japan" was hosted by Ochanomizu University and held at the University's Kiindo Hall. In attendance were roughly 260 people from a wide range of countries.
The symposium began with messages from President Sawako Hanyu on behalf of the University and from Daisuke Yoshida, Director-General of the Higher Education Bureau at the Ministry of Education, Culture, Sports, Science and Technology. Kuniko Inoguchi, member of the House of Councillors and former Minister of State for Gender Equality and Social Affairs, also gave a special speech on how women get into leadership positions and the problems women currently face. Next, H. E. Mrs. Salome Thaddaus Sijaona, Ambassador Extraordinary and Plenipotentiary of the United Republic of Tanzania to Japan gave a speech and introduced the five speakers who subsequently took the podium to oversee panel discussions.
From the African Continent, H.E. Mrs. Betty Grace Akech-Okullo, Ambassador Extraordinary and Plenipotentiary of the Republic of Uganda to Japan, talked about Uganda's quota and proportional representation systems, and gave examples of the many women who have taken up leadership positions in the country.
From the Americas, H.E. Ms. Martha Lidia Zelayandia Cisneros, Ambassador Extraordinary and Plenipotentiary of the Republic of El Salvador to Japan, spoke on project "Ciudad Muher (Womentown)" as an effort to preserve human rights for and improve the station of women. This was followed by a talk on 21st-century social change and political participation by women from Consul-General Ms. Judith Exavier, Chargé d'Affaires ad interim of the Republic of Haiti to Japan.
From the Asia‒Pacific region, H.E. Ms. Tania Laumanulupe 'o Talafolika Tupou, Ambassador Extraordinary and Plenipotentiary of the Kingdom of Tonga to Japan discussed the importance of special measures for getting women into politics and initiatives aimed at promoting women's involvement in all levels of decision-making.
Lastly, from Europe, H.E. Ms. Helena Drnovsek Zorko, Ambassador Extraordinary and Plenipotentiary of the Republic of Slovenia to Japan, spoke on improving the social stature of women in former socialist and communist countries, providing examples of initiatives from the Federal Republic of Yugoslavia, the Republic of Slovenia, the Republic of Macedonia, the Republic of Croatia, and Bosnia-Herzegovina.
Capping off the panel discussions from the five speakers was H.E. Ms. Mohau Pheko, Ambassador Extraordinary and Plenipotentiary of the Republic of South Africa to Japan, who gave a speech that touched on the International Day of the Girl Child. The speech encouraged women to demonstrate their latent capabilities and to contribute to society through work, emphasizing the importance of initiatives aimed at making women aware they can become decision-makers and tomorrow's leaders.
During the panel discussions, attendees exchanged diverse viewpoints centered on the idea of solutions to the problem of women not being able to become leaders despite having sufficient knowledge. These viewpoints ranged from ideas such as "girls need more education" to "education is needed for giving girls confidence and for cultivating the confidence to become leaders," "education itself is not enough; national policies must also change," and "we must push the agenda for gender equality."
There was also a lively Q&A session that served as an opportunity for many of the female students in attendance to participate in the talk.
Attendees' impressions of the overall experience included "the message to students to work hard and seize opportunities was powerful and left a lasting impression" and "I was reminded of the importance of education, goals, confidence, and enthusiasm in achieving diverse leadership."
*    A-WiL is an abbreviation for Ochanomizu University's "International Research Program for the Advancement of Women in Leadership," a special project funded by the Japanese Ministry of Education, Culture, Sports, Science and Technology (AY 2010–AY 2015).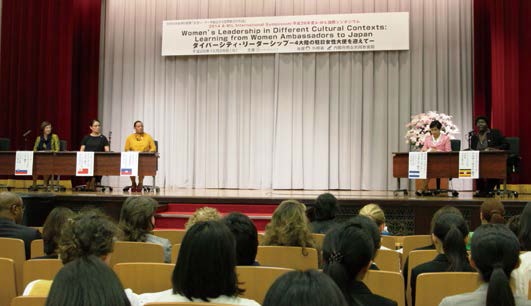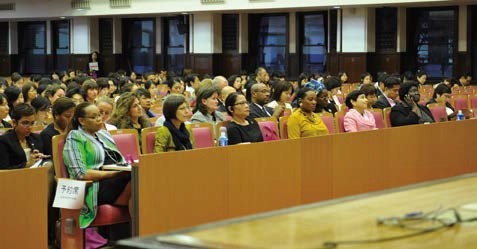 At the symposium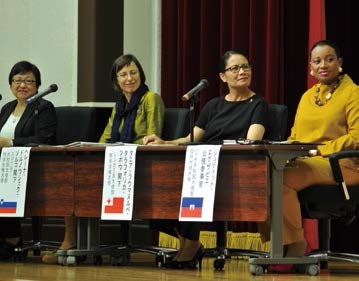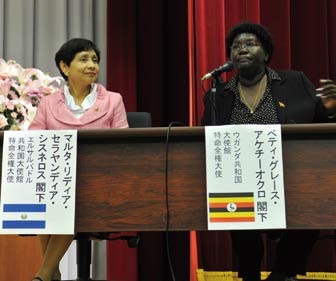 Panel discussion