In April 2014, Ochanomizu University opened the Language Study Commons (in the Foreign Language Education Center of Inter-Faculty Building 3). It is our third Commons space, after the Learning Commons in the University Library and the Student Community Commons in the student dormitory. A Commons Annex was also set up in the University Library.
The Commons are places to support students and faculty engaged in foreign language learning and are one of the four pillars of the Project for the Promotion of Global Human Resource Development, which the university has participated in from AY 2012. The Commons provide various tools suited to independent study, including small advisory rooms for staff and students, work areas for foreign language study (these areas include an automated system for checking English compositions), Rosetta Stone software supporting language study in 30 global languages, and an array of study materials in 52 different languages.
It is hoped that the Study Commons will encourage independent language study for both students and faculty, and will help foster, through language, understanding with people living all over the world.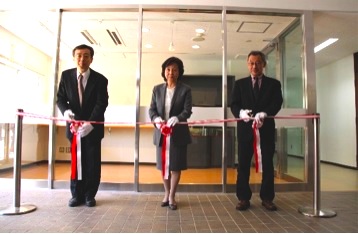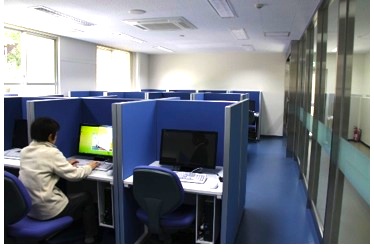 (Left) Cutting the ribbon at the opening ceremony. From left, Mr. Shimizu, Head of Foreign Language Education Center; President Hanyu; Mr. Mimizuka, Head of the Education Secretariat
(Right) Study space inside the Language Study Commons