3 Themes and 70 Participants, Including Students from Overseas Partner Universities
From July 23 to 27, 2012, Ochanomizu University conducted its Summer Program in English. This is the second time that the program, which began last year, has been offered. It is part of the university's internationalization strategy, and aims to develop human resources who can be active on the global stage, and to promote interaction between students.
In this, the second year of the program, the university newly introduced a theme in the humanities ("Ritual and Power in East Asian Societies"). Combined with themes in the social sciences ("Contemporary Perspectives on Social Policy, Education, Family and Development") and the natural sciences ("Science on Form and Color"), this addition brought the total number of themes to three. Seventy students participated, including special auditing students from overseas partner universities (Asian Institute of Technology, University of Naples "L'Orientale"). All lectures were conducted in English. The weather was very hot each day, but the students actively participated in their classes, holding discussions and conducting fieldwork. Despite the limited time, the students produced significant results. In addition, a welcome party was held on the first day of the program, and a farewell party on the final day, allowing students, faculty, and staff to broaden the scope of their interaction.
An overview of the 2012 Summer Program in English can be found on the following website.
Participants from Partner Universities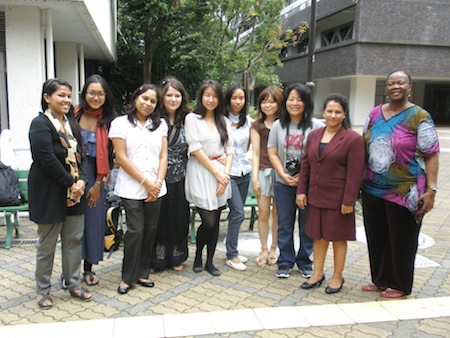 ~ Remarks from Participants ~
"I am highly grateful to all the Professors who delivered their meritorious lectures, making us felt comfortable in class room setting. "
"The program gave me a life-changing opportunity in terms of both academic achievement and personal development."
"The class has oriented me with a wide variety of development issues in Japanese society."
"I had a chance to learn from some of the best professors in the best learning environment. This summer program has made me a little wiser, a little more confident and a whole lot enthusiastic about life. "